Stator cooling water filter SG65/0.7 by Dongfang yoyik
Date:2020-8-29 11:06:20 Visits: Author:Dongfang YOYIK Engineering Co; Ltd,
Stator cooling water filter SG65/0.7 by Dongfang yoyik
The stator cooling water filter SG65/0.7 is used in the stator cooling water system in the hydrogen oil-water system of the turbo generator. Using stainless steel porous support tube, its high strength can withstand the instantaneous high pressure impact generated in the process of resin explosion and backwashing, and ensure that the filter element does not deform and the polypropylene fiber material does not fall off, so that the safe operation of the condensate treatment system is guaranteed .
Product Index:
Medium: water
Material quality: polypropylene
Filtering accuracy: 1μ ~ 100μ
Working pressure: 21bar-210bar
Working temperature: -30¡æ¡«+110¡æ
Scope of application: filter
Product advantages:
1. Imported filter material, better air permeability, more accurate filtration accuracy and longer service life
2. Standardized production, strictly control every department of product production
3. Thickened end cap skeleton, tight structure and strong pressure resistance
4. Acid resistance, fire resistance and high temperature resistance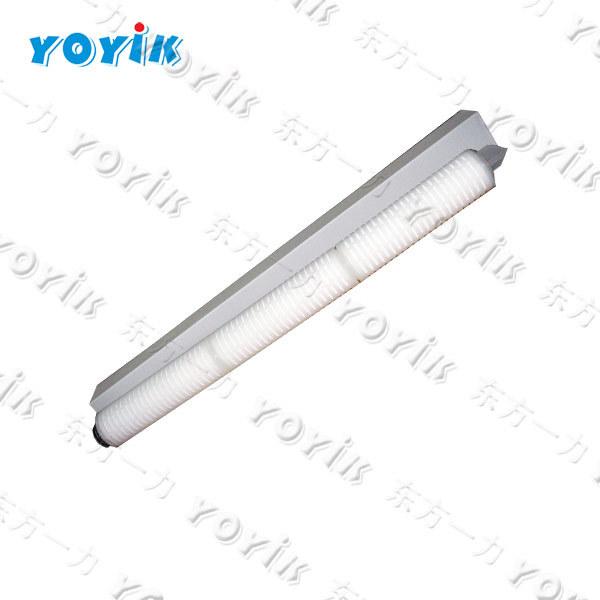 Dongfang Yoyik Engineering Co., Ltd is an industrial supplier based on Deyang, known as the city of heavy industry in China. We are specialized in manufacturing and trading the spare parts of power unit, including filter and filter elements, sealants, sensors, pumps, valves and other work pieces.

filter HBX-630*20
lube filter 2-5685-0154-99
diatomite filter ZD.04.AA.026
filter SFX-240*10
Resin Filter
MSV\CV\RCV actuator working filter
BFP lube filter QF9732W25HPTC-DQ
ion exchange filter ET718-DR-CN
filter GX-100*40
filter HBX-25*10
jacking device outlet oil filter SJF-H240*10FC
sealing oil filter
oil filter Q3U-A100*3S
filter NLX-100*20
filter JWUX-250*80
filter NX-100*20
oil filter JWU-25*180LYZ
filter PA-250/100V
filter GY135.200X*30
filter HXW-250*100
filter IX-400*100
filter TZ-400*30
filter SFX-1300*5
filter 0110D020BH3HC
filter LH0330R10BN/HC
filter HFX-40*10Q
DFYL-CL-2020-8-29-A