Dongfang yoyik supply gear oil pump 2CY45/9-1
Date:2020-5-21 18:04:42 Visits: Author:Dongfang YOYIK Engineering Co; Ltd,
Dongfang yoyik supply gear oil pump 2CY45/9-1
2CY45/9-1 gear oil pump is used to transport various oil media with lubricity, temperature not higher than 60 íŠ and viscosity below 74 *10m2 / s. The reformed oil pump can also transport oil media with temperature not higher than 250 íŠ. It is not suitable for conveying liquid with high sulfur content, corrosive, hard particles or fibers, high volatility or low flash point.
Working principle:
When the motor drives the oil pump gear to rotate, due to the separation of a pair of teeth, the closed volume of the oil suction cavity of the pump body increases step by step, forming a local vacuum, and the oil enters the oil suction cavity through the oil pipe and the pump body under the action of atmospheric pressure. The oil entering the oil suction cavity enters the oil discharge cavity along the inner wall of the pump with the rotation of the gear in the sealed working space. The sealing volume of the cavity is gradually reduced due to the meshing of the gear teeth between the oil discharge cavity filled with the oil. The oil between the teeth is squeezed out and the oil pressure is formed under the action of the external load. With the continuous rotation of the gear, the oil pump continuously absorbs and discharges the oil.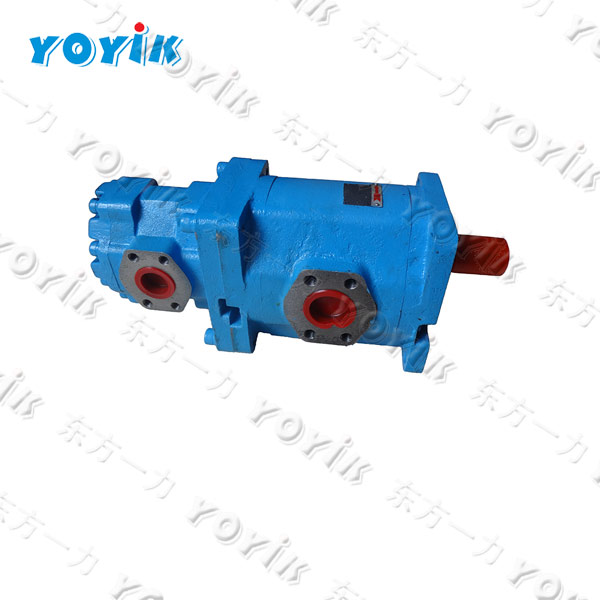 Deyang Dongfang Yoyik Engnieering Co;Ltd are specialized in manufacturing the spare parts for Power plants, including Steam turbines, Generators, Hydro turbines, Hydro generators ,Babbitt bearings, Fluorine plastic bearing pads, Filters, Filter elements, Hydraulic valves, Hydraulic pumps, EHC, TSI, MEH, DCS, Excitation system, Hydrogen oil water system, Sealing compounds, Detachable brush holder, Coolers, Insulation materials,Repairing electric motors, etc.
CV actuator piston rod oil sealing ring 50*58*10
mechanical Shutoff valve 11F02-02-01Y
OPC solenoid valve Z2804076
vacuum pump 30-WS
sealing ring HB4-56J8-145
globe valve SHV4
check washer JB/ZQ4347-97-25*55
HP starting oil pump 100LY-205
AST solenoid valve Z2805013
Check valve (clip type) 216C50 with reverse flange
globe valve J23W-160P
unloading valve DB20-2-30/31.5XV
Servo valve G761-3025
spring gasket JB/ZQ4339-2006
Accumulator bladder 2L NBR
[DFYL-CL-2020-5-21-A]