Cs-V type differential pressure transmitter supplied by yoyik
Date:2020-2-7 15:46:34 Visits: Author:Dongfang YOYIK Engineering Co; Ltd,
The function of the differential pressure transmitter is to instruct people to clean or replace the filter element in time after the filter element of the oil filter is blocked.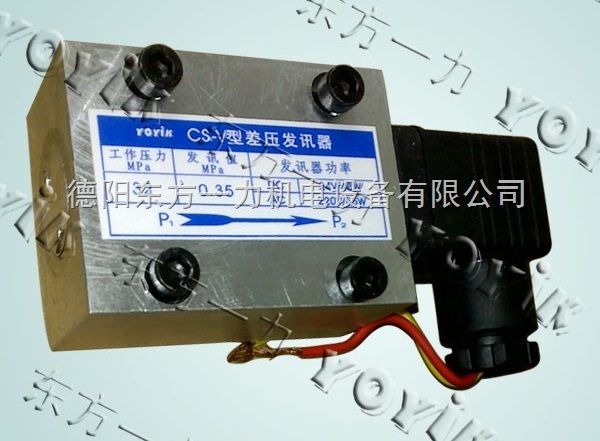 The CS-V type differential pressure transmitter is a new product developed by introducing advanced foreign transmitter technology. Compared with CS-II type differential transmitter, it has the following advantages:
(1) High power, reliable operation, high sensitivity and good seismic performance;
(2) When the hydraulic system starts up or the instantaneous flow increases or decreases, no false signal will be sent out;
(3) The original set differential pressure signal value will not be inaccurate due to collision and other reasons;
(4) It is equipped with standard hydraulic electric wiring plug base, which can be selected in four directions in the installation plane as required during installation;
(5) It can not only send out the signal of filter plugging in the form of switch, but also cut off the control circuit related to the hydraulic system in the form of switch, so as to ensure the safe and normal operation of the main engine and the hydraulic system;
(6) Both AC and DC, AC voltage up to 220V.
Model
Working pressure(Mpa)
DFSYC-2020-02-07-A