Dongfang yoyik supply three-screw pump HSA280-46
Date:2019-11-7 17:41:31 Visits: Author:Dongfang YOYIK Engineering Co; Ltd,
Dongfang yoyik supply three-screw pump HSA280-46
HSA three-screw pump has long service life, reliable operation; wear surface, anti-seizure and high performance.
Performance parameters:
Flow: 10-880L/min
Operating pressure:≤1.6MPa
Speed: 950-3000r/min
Working temperature: 0-150íŠ
Viscosity: 3-1500mm2/s
Suction height: ≤8m
Features:
The axial low pressure balance is adopted in the form of double sleeve, the main and driven screws are in the tension state during operation, so the screw is not easy to be deformed, and the driven screw is reduced in friction and better rotating work; the product is high-grade and the appearance is exquisite. Precision parts: 1 Most parts are made of aluminum alloy, precision die-casting; 2 self-corrosion, paint-free, beautiful, and can upgrade the grade of the unit; 3 innovative structural design, simplifying the overall design while meeting performance requirements The structure is simple and compact; the body size is small, the weight is light, the volume is 1/2 of the conventional product, and the weight is 1/3 of the conventional product;
Application:
HSA series products can transport all kinds of media with lubricity and no solid particles, mainly conveying lubricant (oil) media, such as lubricating oil, mechanical oil, hydraulic oil, gear oil, turbine oil, etc. While meeting the requirements of the original three-screw pump, it can also meet the conditions of high-rotation and low-viscosity conditions, and is suitable for machinery, petrochemical, metallurgy, steel, shipbuilding and other industries.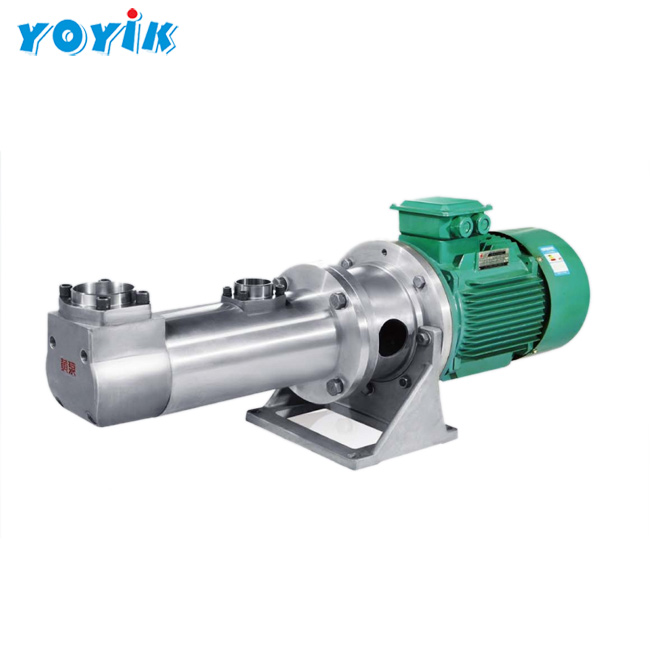 Yoyik is specialized in manufacturing and providing components for turbines, coal-fired generators, and hydro units, as well as for electrical equipments, machinery parts, hydraulic machinery and parts. Our company is seated in the famous industrial city - Deyang with advanced technology, complete facilities and scientific management. Productions are in strict accordance with national standards.
Armored Thermocouple WREK2-294
Electro-hydraulic converter SVA9
LVDT 150mm and 0-10V output
Sensor Speed Transmitter SZCB-01-B01
RTD (Pt-100) WZPK2-343
BALLUF BTL027W BTL5-E10-M0050-P-S32
TRANSFORMER, CURRENT LMZBT13-20
turbine speed DF9011 Pro
Dual Channel RTD WZPM2-001
Cable for probe CWY 3M
Card for controller A-A/D Card U11
PUMP JUCKING OIL A10VS0100DR/31R-PPA12N00
CARD MKVIE I/O IS220PPROH1A
Micro switch E19-00A
Propeller U23613G1106Y00 GU15236-02
LEVEL TRANSMITTER OPTIWAVE 7300C
Dual Channel RTD WZPM2-001
Transducer LJB1-1A/10V
LVDT HTD-150-3
Fuse FD20GC100V40T CC1051
DFCL-2019-11-7-A