Accumulator bladder NXQAB-40/31.5-2-A for yoyik
Date:2019-3-21 15:13:21 Visits: Author:Dongfang YOYIK Engineering Co; Ltd,
Accumulator bladder NXQAB-40/31.5-2-A is specially designed for high pressure hydraulic system. It adopts high quality carbon steel and stainless steel with pressure of 70 to 690 bars. It has various volume specifications. Applicable to all kinds of working media, such as oil-based hydraulic oil, emulsifier, water-glycol, etc. Our accumulator provides flange nozzles and large flow nozzles with standard accessories, O-rings and inflatable tools. Strict ex-factory testing, selection of safety valve blocks, blasting discs and other accessories can ensure the safe installation and operation of accumulator, and provide a safe and reliable management solution for many hydraulic system applications.
Accumulator bladder is a seamless vessel with cylindrical structure. It belongs to a dangerous part in hydraulic system. Attention should be paid to the operation. Attention should be paid to the fixing and sealing of accumulator during installation. After installation, check whether it is well sealed, whether the inflatable bag is damaged, etc.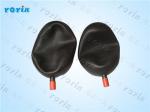 accumulator NXAQ-10/31.5-L
bladder NXQ.A-10/31.5-L-A
bladder NXQ.A-25/31.5-L-EH
HP accumulator bladder NXQA-10/31.5-L-A
accumulator bladder NXQAB-10/31.5-2-A
active solenoid valve OG4V3-2A 22VDC
DFSYC-2019-3-21-A